Bihar Elections 2015 – Tough Situation for BJP to Indulge in Conflict with Nitish Kumar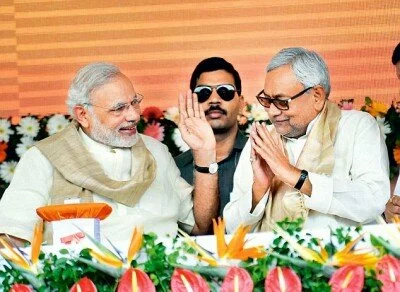 Bihar Elections 2015 – Tough Situation for BJP to Indulge in Conflict with Nitish Kumar
In spite of two great public events in Saharsa and Muzaffarpur and various fascinating announcements by Prime Minister Narendra Modi, Bhartiya Janta Party (BJP) seems to be troublesome in challenging Bihar Chief Minister Nitish Kumar directly.
During Lok Sabha polls, unlike campaigns Narendra Modi had nothing much to talk about his real competitor Nitish Kumar.
During campaigns, PM Modi with his comparatively shorter speeches all focused on Lalu Prasad Yadav and his 'spoiled' political career. He said, "Do you know the true meaning of RJD? It is 'Rozana Jungle Raj ka Darr' (Daily Fear of Jungle Rule)." In his speech, PM Modi also mentioned about the 'fodder Scam'.
While there were direct attacks on Lalu Prasad Yadav, PM Modi hook up to cryptic attacks on Nitish Kumar. "Do you want freedom from 'gunda raj'?" is all that Modi asked.
The reason behind this is:
One of the main reasons why BJP got support in Lok Sabha polls, Haryana and Rajasthan assembly elections was 'anti-incumbency'. Yet there is no such assumption for BJP to get benefitted in Bihar elections.
Nitish Kumar has been ruling Bihar for two consecutive terms, out of which 7.5 years were shared with the BJP under NDA. Two years are apparently a very short span for BJP to arise with something solid against the current CM of Bihar who has no stain on his image.
Failure in implementation of Land Reforms Commission:
One of the important promises Nitish Kumar had made after obtaining the position of CM was to carry out land reforms. Soon after that a Land Reform commission (LRC) was set up under the chairmanship of Dr. Bandyopadhyay, who is the main curator of land reforms in West Bengal.
The full report of Commission was submitted in April 2008. JDU was not the only one to be blamed for not taking the initiative towards the implementation of this commission. BJP is popular for representing the upper caste especially Bhumihars who owned the majority of the land in the state.
The reason that Land Reforms recommendations neglected is believed to be the fear of losing vote bank.
Violence in Patna after the Murder of Brahmeshwar Mukhiya
Nitish Kumar-led NDA government and the CM himself had earned a lot of respect for establishing law and order in Bihar. However, after the murder of Ranvir Sena chief, Brahmeshwar Mukhiya on early morning of June 1, 2012 about 30 of his supporters attacked on Bhimrao Ambedkar Welfare Hostel of Patna University with bricks, stones, hockey sticks, guns and crude bombs. The hostel witnessed brutal violence, three Dalit students were critically injured and yet the government neither stopped it nor could make any steps to capture the real accusable. Bihar capital had never witnessed such terror since Nitish Kumar had ascended the post in 2005.
There are several other aspects also like BJP has no candidate to offer against Nitish Kumar, Seat distribution issue, and Nitish Kumar's incorruptible image.
Prime Minister Narendra Modi's next speech is organized on September 1 at Bhagalpur Airport ground. Since there are a couple of months in hand, BJP has much to do and everyone is awaiting of BJP's new game plan for Nitish Kumar.