The battle of Varanasi- Who will win the fight?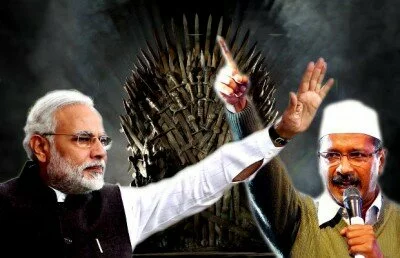 The battle of Varanasi- Who will win the fight
Varanasi has become a battle field after Narendra Modi the prime ministerial candidate of BJP and AAP chief Arvind Kejriwal decided to fight against each other from here. The city witnessed much of drama and tension in the last few days when the top leaders came to Varanasi for campaigning.
Arvind Kejriwal came to the city and campaigned for his party. Hundreds of AAP supported flowed into the city. Kejriwal took bathe in the River Ganga and thereby sought blessings to win the elections. He talked with the people and even did his best to woo the muslim voters.
Narendra Modi and his supporters campaigned for the party by every possible means to win the hearts of the people in the form of votes. Modi had decided to hold three rallies in the city but got upset after one of them was cancelled by the DM over security issues. A mass protest was carried out by the party and even the working of the EC was questioned. They demanded for the transfer of the DM which was not accepted by EC. Following the sequence of events and looking at the sensitivity of the situation a Special Observer was appointed in the city.
Rahul Gandhi who visited the city campaigned for his party candidate Ajay Rai who is contesting for elections from Varanasi against Modi and Kejriwal. BJP got furious after Rahul held roadshow at the same place where BJP was denied permission.
Different parties came up with different campaigning techniques and even tried to take help from the locals to woo the voters.
Today the city goes for election. More than 16 lakh voters will cast their vote. It will be thrilling to wait for the results to come and see what the people of Varanasi really have to say through their votes. So just wait and watch.