Congress gives farewell dinner to Manmohan Singh, Rahul absent at the event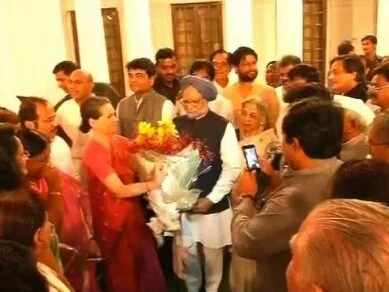 Congress gives farewell dinner to Manmohan Singh, Rahul absent at the event
With exit poll results coming not in favor of Congress party, they have got caught in another media controversy after it was known that Rahul missed the farewell dinner of Manmohan Singh. Many party leaders raised the question regarding the absence of Rahul Gandhi. The minister of state for Home Affairs, RPN Singh said the issue should not been seen from a political point of view and rather it is the time to see into the achievements of Manmohan Singh. He further added that Rahul had already met Manmohan Singh on Saturday as he was leaving the town for two days.
Ajay Maken, the Congress leader said that Rahul went out of town for days after the end of tiring election campaigns that took 3 months to complete and will be back by tomorrow. Before leaving he had met PM and had thanked him for leading the UPA government for 10 years.
The farewell dinner was arranged at 10, Janpath by the party for Manmohan Singh as a mark of gratitude for leading the party. A momento was presented to Manmohan Singh which was signed by all the party members. The event was attended by Singh's wife Gursharan Kaur too and both of them were presented with bouquets by the party members.
Manmohan Singh entered politics in the year 1991 when he was made the Finance Minister by the then prime minister PV Narasimha Rao.
For Latest Updates of Election Results Click Here -> Live Election Resullts 2014