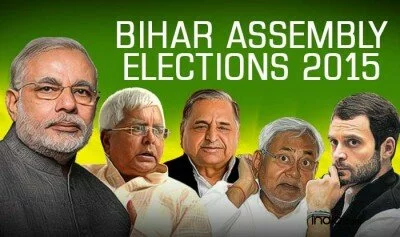 Bihar elections 2015: Nominations for Second Phase Started
PATNA: The nomination papers filing for the second phase of the Bihar assembly polls which is to be held on October 16, started Today.
In the second phase, the elections will be held in 32 constituencies out of the total 243 assembly constituencies.
The last date for the nomination filing for the second phase is September 28. The scrutiny of the nomination papers will be held on September 29 and the withdrawal of nomination by the candidates can be done till October 1.
R. Lakshamanan, the Additional Chief Electoral Officer said that the process of the five-phased assembly elections in Bihar started last week with the nomination papers filing for the first phase.
In the second phase, the constituencies going to the polls are in Aurangabad, Gaya, Jehanabad, Rohtas, Arwal and Kaimur districts.
The main contest for the Bihar polls is between the Bhartiya Janta Party (BJP)- led National Democratic Alliance (NDA) and the grand 'secular' alliance of the Janta Dal- United (JD-U), Rashtriya Janta Dal (RJD) and the Congress.
Election of new 243-member assembly in staggered polls in Bihar is to be held between October 12 and November 5. Bihar will elect for the polls. The vote counting will be held on November 8.