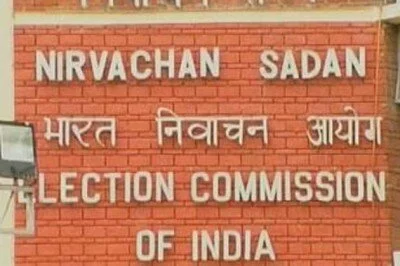 Bihar Polls: Date of Scrutiny Revised for Fifth Phase
New Delhi: On Thursday, the Election Commission revised the date of scrutiny of nominations for the fifth phase of Bihar assembly polls. The EC made a minor modification in the schedule, advancing the date by a day.
According to a statement made by the commission, it has decided to revise the "date of scrutiny" for the fifth phase from October 17 to October 16.
No reasons are mentioned in the statement. Election Commission has powers to make these modifications under the provisions of section 30 of the Representation of the People Act.
The announcement for the last phase will be made on October 8 while voting will be held on November 5.
The five-phased elections will take place from October 12 to November 5. Votes will be counted on November 8.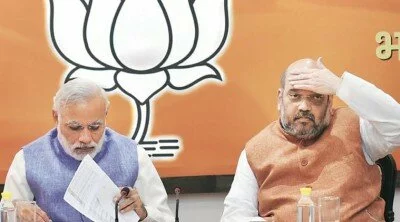 Bihar Elections: BJP Announces First List of 43 Candidates, Allies Dejected Over Seat Share
NEW DELHI: Tuesday night, putting out a list of 43 candidates, the BJP became the first one among the block to release the name of candidates for Bihar assembly. Among the list of 43 names, 26 are the sitting MLAs. Focusing on youth aspirations and to balance caste equations, BJP has denied tickets to three MLAs.
The Central Election Committee (CEC) of BJP finalized 34 candidates from among 81 seats running to polls in the first two phase- October 12 and October 16. Nine more candidates will be joining from other phases. Thus, a total of 43 candidates announced by BJP.
According to the ticket announcements, 15 of 22 sitting party MLAs from these two phases have been renominated by BJP. According to the released list of candidates it appeared that the renomination of BJP MLAs from five different assembly segments Pirpainti, Teghra, Rajauli, Gurua and Katoria have been denied by the party considering their victory in assembly segments 2010.
The list included 19 candidates from the first phase while from the second phase 15 candidates are included. As well as additional nine candidates from other phases were announced.
Among the list of nine candidates from other phases, prominent sitting MLAs have been nominated by the party, including Nand Kishore Yadav, the leader of opposition in state assembly, BJP's national vice-president Rendu Devi among others. The list of nine candidates was proposed to include names of prominent MLAs from different social groups to indicate special consideration to prominent social groups of BJP's for the leader of those communities.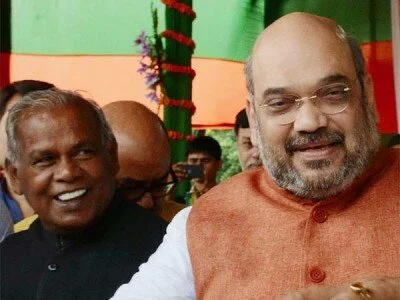 Bihar Elections: NDA Firms up Action Plan
Patna: Over much bargaining by the Hindustan Awam Morcha (HAM) led by Jitan Ram Manjhi and some dissatisfaction for Paswan's Lok Janshakti Party (LJP) and the Kushwaha-led Rashtriya Lok Samata Party (RSLP), The NDA has finalized its seat sharing arrangement.
This time in Bihar, the BJP-led NDA will be nominating more Muslim and Yadav candidates to neutralize the formidable social alliance of Nitish Kumar and Lalu Prasad Yadav. NDA believes that the inclusion of Jitan Ram Manjhi will give them the advantage in the state having the deep caste fault lines.
BJP leader of Bihar, Sushil Kumar Modi who is a strong contender for the post of CM if NDA wins, today said that people believe that development has become a misfortune after Nitish Kumar has left BJP and joined hands with the RJD and congress.
The former deputy chief minister asserted that NDA has no "allergy" with Muslims and said that this time, his party would put up more Muslim candidates. "BJP and its allies will certainly include more Muslims," he told reporters and claimed that Muslims have good chemistry with Bihar BJP.
Bihar BJP chief Mangal Pandey informed PTI that more Yadavs will be contesting on BJP's tickets this time.
Sushil Kumar Modi said people believes that Nitish Kumar would carry on fighting with the Centre for one reason or the another and so they want BJP in power for the development of the state.
Mahadalit leader Jitan Ram Manjhi inclusion in the alliance will give an advantage to NDA, he said, adding that, in the Lok Sabha polls the community had mostly voted for Nitish Kumar.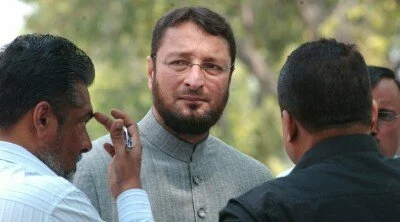 Bihar elections 2015: Asaduddin Owaisi's AIMIM to Contest in Seemanchal
Hyderabad: Asaduddin Owaisi, the president of All India Majlis­e­Ittehadul Muslimeen (AIMIM)
on Saturday informed that the party would contest the upcoming Bihar polls in the Seemanchal region.
Encouraged by his achievement in Maharashtra Assembly polls 2014, Owaisi is testing waters for Bihar in the contest to polls.
It is still not clear about the number of seats which he would field candidates in the region comprising of nearly 38 seats.
Owaisi told reporters that the number of seats it will be contesting will be soon announced by All India Majlis­e­Ittehadul Muslimeen (AIMIM).
The seemanchal region of Bihar comprises four districts­ Purnea, Araria, Kishanganj and Katihar.These districts altogether rank as one of the most backward regions of India.
Low literacy rate, poverty, unemployment, corruption and health and sanitation are some of the major concerns of this region.
Seemanchal has 24 assembly constituencies.
Hyderabad MP said that the main issue of the Bihar polls, for his party will be the backwardness of Seemanchal. "Seemanchal has remained backward as it has been ignored by major parties in Bihar. Our main goal is to develop this region," he said. He also announced that Akhtarul Iman will be the president of AIMIM for Bihar unit.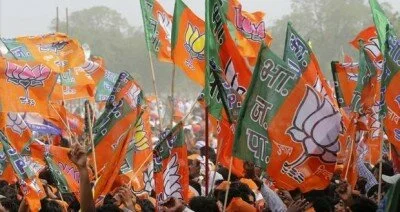 Bihar Elections: BJP About to Contest 170 Seats, Offer 73 to Allies
NEW DELHI: On thursday, The BJP has decided to fight 170 seats in the Bihar Assembly polls – a major portion in the 243-member house, leaving 73 seats for its three allies – HAM, LJP and RLSP.
According to informed sources, a maximum of 40 seats was likely to be given to Ram Vilas Paswan's Lok Janshakti Party (LJP). 20 seats to Upendra Kushwaha's Rashtriya Lok Samta Party (RLSP), and 13 seats to former Chief Minister Jitan Ram Manjhi's Hindustani Awam Morcha (HAM).
Sources said the offer has disappointed Kushwaha and Manjhi though they have publicly abstained from conveying their disappointment and unhappiness.
Union minister and election in-charge of Bihar, Ananth Kumar held meetings with Kushwaha and Manjhi personally at his official residence on Thursday and discussed the seat-sharing formula.
BJP's general secretary in-charge of Bihar Bhupendra Yadav also attended the meetings.
According to the sources, the BJP has decided a wide formula in which each party will be allotted 6-7 assembly seats for every parliamentary constituency in its stake.
However, Manjhi opposed this as his party has no parliament member, and pitched for the seats as per numbers in the present assembly.
Jitanram Manjhi has 13 MLAs whereas Ram Vilas Paswan has no members in the assembly.
According to the formula, the BJP having 22 MPs in Bihar was about to get around 170 seats.
Paswan's LJP having six MPs was about to get around 40 seats and Kushwaha's RLSP having three MPs was about to get nearly 20 seats.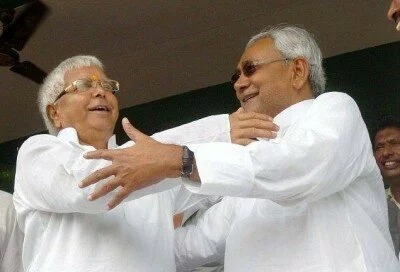 Pre-Poll Survey in Bihar: Advantage for Lalu-Nitish- Congress while BJP-led alliance will lose
NEW DELHI: According to a pre-poll survey, on Wednesday, out of the total 243 seats the RJD, JD(U) and Congress combined alliance in Bihar is expected to achieve nearly 116 to 132 seats in the assembly elections which is scheduled to be held in five phases between October 12 and November 5.
India TV – CVoter poll showed that the BJP-led alliance, including Rashtriya Lok Samata Party and Lok Janshakti Party, is predicted to get 94 to 110 seats.
The predictions are made on a methodology which is based on a random eccentric sample of 10,638 interviews which covered all 243 segments in Bihar during the last week of August and the first week of September.
"The margin of error is plus/minus 5 percent at the regional level and plus/minus 3 percent at the state level," C-Voter said.
In the Bihar assembly polls 2010, Lalu Prasad Yadav's RJD-led alliance with Paswan could achieve only 25 seats while the then BJP-JD(U) alliance had won 206 seats.
On asking the question about who would be the best Chief Minister, a majority of 53 percent respondents favoured Nitish Kumar, while only 18 percent favoured Sushil Kumar Modi and Lalu Prasad Yadav and BJP's Shatrughan Sinha both were favoured by only 5 percent each.
According to vote percentage, the Lalu-Nitish-Congress alliance is predicted to win 43 percent votes, while the BJP-led alliance is predicted to gain 40 percent votes and 17 percent votes going to others.
Nearly, fifty-six percent respondents said that the current elections will be in the favour of change.
Responding to a question on who was responsible for such a poor condition of the state, approximately 52 percent respondents held the current state government responsible while 35 percent respondents blamed the Central government.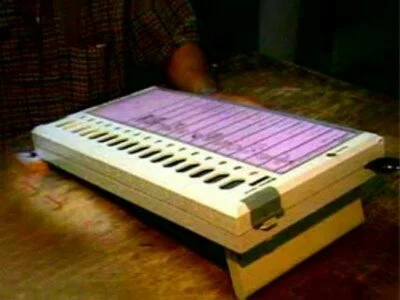 Haryana Panchayat Polls dates Announced
Chandigarh: Haryana panchayat polls dates are announced on tuesday, a day after the bill passed by the state assembly making it compulsory for the contesting candidates to possess minimum educational qualification and ensure that they have a functional toilet at their homes.
On Tuesday Haryana state election commissioner, Rajeev Sharma said that the panchayat elections were being organized in phases to ensure smooth operation of the electoral process and to provide adequate time to the contesting candidates for campaigning.
The state election commission announced the three-phase Panchayati Raj Institutions (PRIs) elections will be held on October 4, 11 and 18. The election will be carried out for approximately 72,000 posts of panchayat members, panchayat samitis and zila parishads.
"Elections would be conducted for 2,932 posts of 123 panchayat samitis, 393 posts of members of 20 zila parishads, and 6,197 posts of sarpanches and 62,471 posts of panches," Rajeev Sharma told media at Panchkula, neighboring Chandigarh.
On Monday, Haryana Assembly passed a bill under which the candidates contesting for panchayat elections in the state will have to assure minimum academic qualification and fulfill other criterias also.
According to the new bill, contesting candidates must possess a minimum qualification of matriculation (Class 10).
Scheduled Caste and women candidates must possess middle pass (class 8) qualification and Scheduled Caste women candidates will require to be at least class 5 pass.
The bill also made it compulsory for contesting candidates to ensure that they have a functional toilet at their home.
The candidates must also ensure that they do not have any criminal background, have not back-pedaled loans from cooperative banks and have cleared their electricity bills.
"All preparations are made to ensure independent, unbiased and peaceful elections," Rajeev Sharma said.
He said that 21,475 polling booths have been assembled, 4,123 among them have been categorized as sensitive and 4,265 as hypersensitive.
Nominations for the elections will begin on September 15. Nominations for the posts of panches, sarpanches will be received at village headquarters and those for the members of panchayat samitis will be received at block headquarters.
Bihar Polls 2015: Mulayam Singh takes on Congress, says It has no Future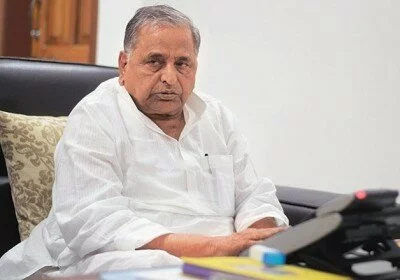 Bihar Polls 2015: Mulayam Singh takes on Congress, says It has no Future
Lucknow: Samajwadi Party President Mulayam singh Yadav on sunday took on the Congress and said that it has no future. He became the pessimist of catastrophe for the Congress. Again showing his desperation and support to BJP Mulayam Singh Yadav ostracized the congress and said it is nearing its end.
"The Congress party has no future and we have no sympathy with them," said Mulayam Singh at a huge rally in his Basion Mainpuri.
Mulayam Singh's statements coming after his exit from the Grand Secular alliance last week, shows that it was because of the increasing closeness between JD(U), RJD and Congress that he pulled out the alliance.
Further Mulayam Singh said that the rise of Bhartiya Janta Party (BJP) was because of the fall of Congress as a political force. "The Congress has failed to block the advancement of BJP. We Samajwadi's are the only one who have challenged the BJP everytime," he proclaimed.
Recently, this was the third significant attempt made by Mulayam Singh which clearly indicates his desperation to be in Modi's good books. The main reason behind this is assumed to be the threat of the CBI again starting the Disproportionate Assets (DA) case, which is pending on him in Supreme Court.Besides this, Mulayam Singh wants to stay away from Congress subsequently for the next UP assembly elections as both are petitioner of the most critical Muslim vote.
"We have done utmost work for the poor and distressed and we must again rise to power to complete the task," Mulayam Singh Yadav, remembering his stint as a defence minister said that he missed the post of Prime Minister just by a whisker.
Later, Mr. Yadav asked UP chief minister Akhilesh Yadav to focus on the completion of projects and just not on their launching. He asked for the completion date of the Sainik School in Mainpuri, whose foundation stone was laid on Sunday.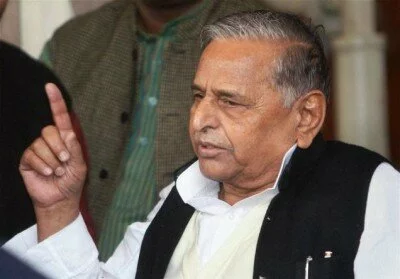 Bihar Polls: Mulayam Singh Yadav Exits the 'Grand Alliance', Will Fight Bihar Elections Alone
Lucknow: Strengthening its reputation as a volatile ally, Mulayam Singh Yadav on Thursday said that his Samajwadi Party exited the 'Grand Alliance' formed with Nitish Kumar, Lalu Prasad Yadav and Congress. His party will fight the Bihar elections alone.
In Lucknow party leader, Ram Gopal Yadav told reporters, "The Samajwadi Parliamentary board has decided to fight Bihar elections, independently."
"If needed, the party will ask support from some other parties, but that is not decided yet," He added.
The parties had united to block the BJP, whose campaigns are being led by the Prime Minister Narendra Modi.
According to Mulayam Singh Yadav, the five seats allocated to his party by the alliance are significantly inadequate. When the distribution was announced for the first time, Samajwadi Party was given none.
There are has no state legislators or parliamentarians from Bihar in Samajwadi Party, so the reason for this breakup lies in a fragment to the stated unity of parties that have combined against the BJP.
Some of the members in Mulayam Singh's party have argued that the Samajwadi Party could be could be considered as strengthening the BJP by exiting from the secular alliance. A perception that could affect the party adversely when it takes on the BJP in Uttar Pradesh, where it will seek to retain power in elections to be held in 2017.
Bihar Chief Minister Nitish Kumar, earlier while announcing the seat sharing formula said that the JD(U) and RJD will contest 100 seats each and the Congress will contest 40 seats. He had also expressed his hope that other parties like the NCP and the INLD will also join the alliance
Nitish Kumar, who has served Bihar for two consecutive terms as Chief Minister, is the candidate of the non-BJP alliance.
The BJP and its other three allies have decided that the PM – who has held four public rallies in Bihar, drawing huge audiences – will be asking votes directly for him, and not for a presumptive Chief Minister.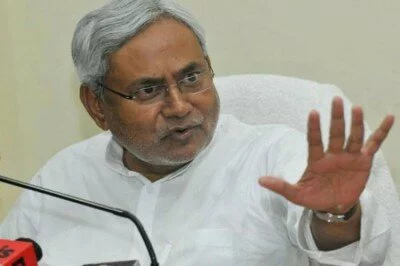 No New Promises, Please: Nitish Kumar to PM Modi
Patna: Intensifying the word-war with PM Modi, Bihar Chief Minister Nitish Kumar on Tuesday, asked him not to make new promises and smashed him for not conveying the promises which he had made during the Lok Sabha polls of 2014 and misguiding the people of Bihar by repackaging the old schemes of the state government and including it in the currently declared special package for the state.
Nitish Kumar asked PM Modi to "stop the rhetoric and chest thumping", and convey the promises which he had made ahead of the Lok Sabha polls of 2014.
"Show moral courage. Accept the inadequacies in conveying on old promises," The senior Janta Dal (United) leader, Nitish Kumar said in the series of tweets prior to the Modi's election rally in Bhagalpur.
Nitish Kumar implored Modi to respect the emotions of the people of Bihar who, he said "have been troubled by his unkept promises and unsavory comments."
On Modi's comment that something was unusual with Chief Minister's DNA, Nitish Kumar asked PM to take his "derogatory words" back.
"Show moral courage. Take back your derogatory words of questioning the DNA and calling the state Bimaru and people as durbhagyashali (unlucky)," Kumar said.
"No new promises, please. Abbreviate a believable action plan to convey on your previously made promises to the people," He said in one of the tweets.
The Chief Minister asked Modi to remain up to act properly to his previous election promise of decriminalization and not to declare tickets to the candidates having criminal background.