Bihar Elections: BJP About to Contest 170 Seats, Offer 73 to Allies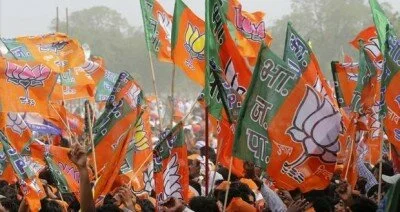 Bihar Elections: BJP About to Contest 170 Seats, Offer 73 to Allies
NEW DELHI: On thursday, The BJP has decided to fight 170 seats in the Bihar Assembly polls – a major portion in the 243-member house, leaving 73 seats for its three allies – HAM, LJP and RLSP.
According to informed sources, a maximum of 40 seats was likely to be given to Ram Vilas Paswan's Lok Janshakti Party (LJP). 20 seats to Upendra Kushwaha's Rashtriya Lok Samta Party (RLSP), and 13 seats to former Chief Minister Jitan Ram Manjhi's Hindustani Awam Morcha (HAM).
Sources said the offer has disappointed Kushwaha and Manjhi though they have publicly abstained from conveying their disappointment and unhappiness.
Union minister and election in-charge of Bihar, Ananth Kumar held meetings with Kushwaha and Manjhi personally at his official residence on Thursday and discussed the seat-sharing formula.
BJP's general secretary in-charge of Bihar Bhupendra Yadav also attended the meetings.
According to the sources, the BJP has decided a wide formula in which each party will be allotted 6-7 assembly seats for every parliamentary constituency in its stake.
However, Manjhi opposed this as his party has no parliament member, and pitched for the seats as per numbers in the present assembly.
Jitanram Manjhi has 13 MLAs whereas Ram Vilas Paswan has no members in the assembly.
According to the formula, the BJP having 22 MPs in Bihar was about to get around 170 seats.
Paswan's LJP having six MPs was about to get around 40 seats and Kushwaha's RLSP having three MPs was about to get nearly 20 seats.