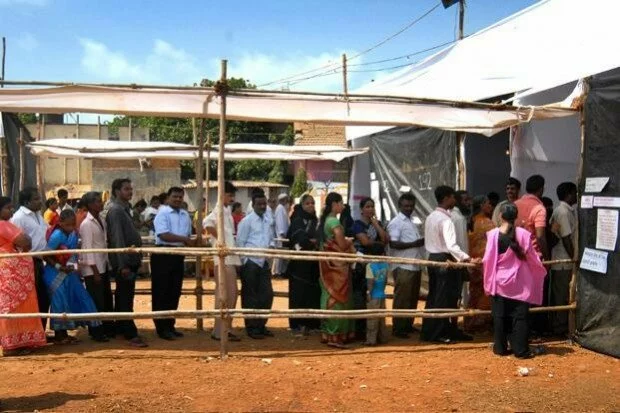 NDA desires increased with 57% Turn Out Vote in Bihar Polls Phase I
Bihar: The first phase of the Bihar elections for 49 Assembly seats in 10 districts passed off peacefully including the Maoist-affected areas, amid tight security on Monday with 57 percent vote cast.
The National Democratic Alliance throbbed a sigh of relief over the increase in voting percentage and desires are increased with the 57% turn out votes. Women voters outnumbered the male voters by five percent.
With the completion of the first phase of Bihar poll, political observers believe that the trend is still 50-50 for both the parties. "It is still not very clear who is in advantage and who is losing, but available scenario indicates, a close and tough competition ahead," said, a political observer N.K Chaudhary.
However, both the party leaders consider the polling trend going in their favour. "The BJP-led NDA will not acquire more than 10-12 seats in the first phase," announced a JD(U) leader, while the BJP leaders of the state said: "the high poll percentage shows that the people are fed up with the ruling party and have voted for change this time."
The voting percentage, in these districts during the 2010 Assembly polls was 50.85 while this time it is increased to 57," State Election Comission said. Arrangements of tight security were made and Central paramilitary forces were deployed at every booth. Five helicopters and three drones were deployed for surveillance in the Maoist-affected districts.
According to the state Election Commission, around 110 suspected persons were arrested and some vehicles were also seized for the purpose of maintaining peace.