Action sought against Jharkhand police officers as a result of a Maoist Ambush that leaves 8 dead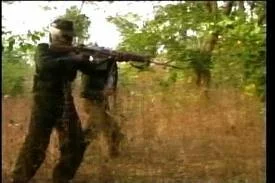 Jharkhand police have recommended action against the deputy commissioner for negligence of duty in connection with a Maoist Ambush that left 8 members of a polling team dead. Eight people, including five security personnel and three polling staffs were killed and five injured on April 24 when a bus they were travelling hit a landmine planted by the Maoists near Palasi village in the district.
In a report to the state government, the police head-quarters stated that " the DC and SP deploy forces during polls and there were large scale irregularities in deployment of forces."
Sources in the government said the report sought suspension of N K Mishra, the District's Superintendent of Police and action against Harsh Mangala, the Deputy Commissioner.