Bihar Elections 2015 : JD(U)-RJD-Congress Grand Alliance's 'Swabhiman Rally' – A Big Flop Show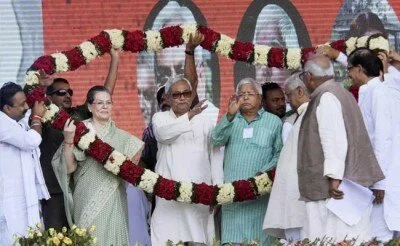 Bihar Elections 2015 : JD(U)-RJD-Congress Grand Alliance's 'Swabhiman Rally' – A Big Flop Show
PATNA: On Sunday, 30th August, 'Swabhiman Rally' was held at historic Patna Gandhi Maidan. The Grand Alliance show got a good crowd at its 'Swabhiman Rally'. Through this Rally Nitish Kumar's intention was to affect Narendra Modi's pitch for upcoming Bihar elections. His other intentions were to exhibit himself as an unchallenged leader of a 'secular' Grand Alliance. Lalu Prasad tried to renew his relationship with the Congress.
All the three speakers succeeded in their common agenda of launching a denunciation against Prime Minister Narendra Modi. Nitish offered his plans of what he wants to do for Bihar, but Sonia Gandhi and Lalu Prasad did not say anything about what they would do for Bihar if the Grand Alliance came to power. There were apparent signs at the conclusion of the Rally that Nitish Kumar's well- prepared plans had completely been broken.
Nitish was involved in his showing his development plans to the crowd and invoking people in his Bihari style to attack PM Modi's DNA comment. Surely, it was the best speech but he did not get the desired crowd connect.
Sonia Gandhi was found to be trying to find a balance between Nitish and the Congress. She did not comment too much on the past performance of UPA government as she knew it would work against her.
In the end, it appeared to be Lalu Prasad Yadav's personal strength show for all practical purposes that flopped the Rally. To indicate his supremacy among those seated on the platform, he gave a speech at the very end. The Rally ended with no clear message and separate agendas of Lalu Prasad Yadav and Nitish Kumar.
Ramvilas Paswan, Lok Janshakti Party (LJP) president and Union Food Minister described the 'Swabhiman Rally' of the Grand Alliance as a "big flop" due to low response and claimed that NDA will capture the Assembly Polls in Bihar by three-fourth majority.
"If the alliance aimed to show its strength to NDA after Prime Minister Narendra Modi's successful Rallies in Bihar, it has poorly failed in that attempt," Ramvilas said describing the Rally as "huge disappointment" and a "big flop."
Paswan ruptured the theme of the rally,'Swabhiman', questioning the CM Nitish Kumar and RJD supremo Lalu Prasad Yadav to explain about whose swabhiman (pride) the two were trying to protect as they had been attacking each other since years.