FIRs filed against Modi for flashing party Symbol after voting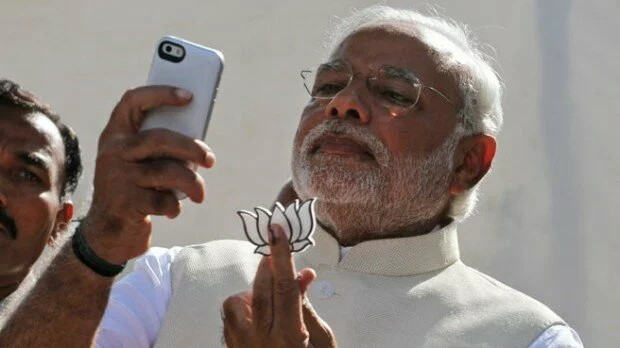 Ahmedabad : A case was registered against BJP's Prime Ministerial candidate Narendra Modi for flashing his party symbol lotus and made a speech violating election rules after casting his vote.
Voting in his home state Gujarat, the opposition leader, whose pro-business policies have pleased investors, flaunted a white cutout of lotus, his party symbol and made a disparaging speech against Congress, jeering them for shying away from the fight. "The Prime Minister himself is not fighting the elections, the finance minister is not fighting the elections. All its top leaders have run away." said Modi to cheering crowds at the polling station in Gujarat's largest city Ahmedabad.
He took a photograph of the lotus and his finger painted with ink after voting and tweeted it. According to Election Rules, such activities should not be done within 48 hours of elections. A preliminary case has been filed against Modi by Gujarat Police chief PC Thakur after EC made a request. "The Ahmedabad crime branch has begun investigations." Thakur said.
Modi said that the FIR booked against him shows the panic in Congress and that he would not forget April 30 as an FIR was registered against him for the first time in his life.