People stripped, beaten up for voting : J&K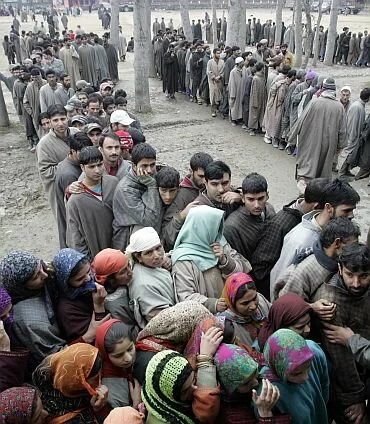 Kupwara: People who voted in Kupwara of Jammu and Kashmir were beaten up and stripped by the stone pelters who had asked them to boycott elections. A middle aged man was beaten up by a group of youth and then forced to strip for voting. The stone pelters even called him traitor for going against their boycott call. People faced such issues in Sopore and Baramulla too.
Javeed Ahmad Dar the PDP leader said that it is not right. Boycotting the elections and voting both are the rights of the people. He also added that administration should take the responsibility to safeguard the life of the people and Hurriyat should make it clear on whether its people are involved in beating up the people who voted.
The voting percentage in Baramulla came down after clash at the polling booth between the government and youths. But in the Kupwara more that 60 per cent voting was registered. The angry protestors looked for the people with ink mark and beaten them up. The officials said that it was difficult for them to take action as these protestors were wearing masks.