Rajnath : Handsome package would be given for WB if NDA forms next government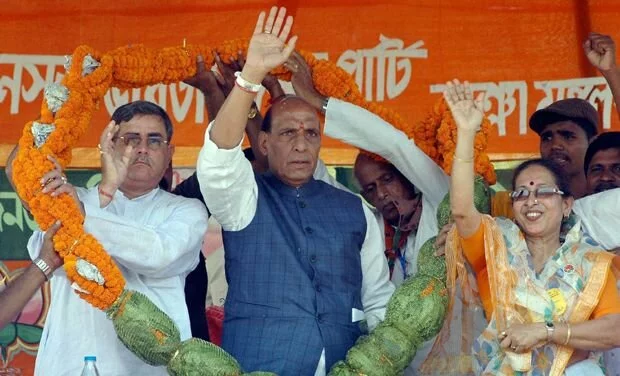 Kolkata : BJP President Rajnath Singh said on Friday backing Trinamool Congress Chief Mamata Banerjee that a large package shall be given for West Bengal's development if NDA forms next government. This approach of Rajnath came as a result of Modi's attack on Mamata at an election rally in Sreerampur of Hooghly district. While addressing a rally, Modi questioned about the high cost of Mamata's painting although he honors the art of it. The cost of painting is 1.8 Crore.
Singh told TMC during a meeting at Naihati that if TMC want to fight, then they should do so against Congress and not with BJP. He also assured that if the government came to existence in Delhi then whatever package is necessary to remove poverty and unemployment from West Bengal's will be given.
In one of the rally at Keshiyari of Midapore, Singh said that when his party forms the next government, first priority would be to search the illegal migrants of Bangladeshand take proper action against those people.