Trinammol and BJP files complaints against each other.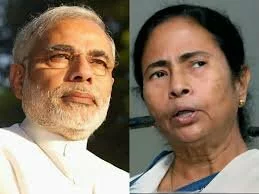 Kolkata: Following the war of words between BJP and Trinamool Congress, both the parties approached EC on monday and filed complaints against each other. Mamata Banerjee even demanded the arrest of BJP leader Narendra Modi.
BJP accused Mamata for using filthy language against them and thereby violating the model code of conduct that has been enforced for the Lok Sabha elections. BJP said that she is using the language that does not suit to the chief minister of West Bengal.
On the other side, Mamata accused Modi for trying to provoke people in the name of caste and religion and thus creating the situation which may disturb harmony in the state. She has asked EC to arrest him.
She further added that Modi is trying to get votes in the name of religion. During his speech he had said that if his party wins then he will evict all the Bangladeshi intruders from the state.