Prime Minister's brother joins BJP, family shocked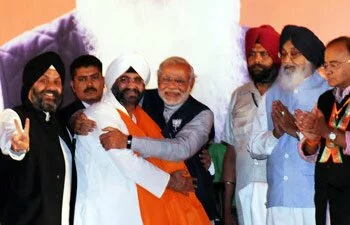 Prime Minister's brother joins BJP, family shocked
Prime Minister's step brother Daljeet Singh Kohli joined BJP party a day after PM had said that there is no "Modi wave" in the country and it was just created by the media.
He joined the party in the presence of BJP prime ministerial candidate Narendra Modi and Punjab chief minister Prakash Singh Badal .
It happened in Amritsar where Narendra Modi had come to address a rally in support of senior party leader Arun Jailtey who is contesting from the Amritsar Lok Sabha seat. Mr. Kohli was seen sharing the dias with Narendra Modi, Punjab chief minister and other senior party leaders.
Mr. Kohli said that he had come to express his support to the party. He further added that his brother Mr. Manmohan Singh is a honest politician who has given his best to serve the nation but never got a free hand in the governance of the country under the Congress leadership.
Narendra Modi said "Mr. Manmohan Singh's brother has joined our party. It will increase our strength. Our party is not a membership party but a relationship party. "
The family of PM was shocked by the turn of events and said that they are with PM and will support him. PMO sources said "His intentions are not known but he is free to pursue his political career."
Mr. Singh has six sisters and he is the only son, his mother died at an early age. Mr. Kohli is Mr. Singh's step brother.
Former Prime Ministers of India
| Name | Took office | Left office | Party |
| --- | --- | --- | --- |
| Dr. Manmohan Singh | May 22, 2004 | May 26, 2014 | Indian National Congress |
| Shri Atal Bihari Vajpayee | March 19, 1998 | May 22, 2004 | Bharatiya Janata Party |
| Shri Inder Kumar Gujral | April 21, 1997 | March 19, 1998 | Janata Dal |
| Shri H. D. Deve Gowda | June 1, 1996 | April 21, 1997 | Janata Dal |
| Shri Atal Bihari Vajpayee | May 16, 1996 | June 1, 1996 | Bharatiya Janata Party |
| Shri P. V. Narasimha Rao | June 21, 1991 | May 16, 1996 | Congress (I) |
| Shri Chandra Shekhar | November 10, 1990 | June 21, 1991 | Janata Dal (S) |
| Shri Vishwanath Pratap Singh | December 2, 1989 | November 10, 1990 | Janata Dal |
| Shri Rajiv Gandhi | October 31, 1984 | December 2, 1989 | Congress (I) |
| Smt. Indira Gandhi | January 14, 1980 | October 31, 1984 | Congress (I) |
| Shri Charan Singh | July 28, 1979 | January 14, 1980 | Janata Party |
| Shri Morarji Desai | March 24, 1977 | July 28, 1979 | Janata Party |
| Smt. Indira Gandhi | January 24, 1966 | March 24, 1977 | Congress |
| Shri Gulzari Lal Nanda | January 11, 1966 | January 24, 1966 | Congress |
| Shri Lal Bahadur Shastri | June 9, 1964 | January 11, 1966 | Congress |
| Shri Gulzari Lal Nanda | May 27, 1964 | June 9, 1964 | Congress |
| Shri Jawaharlal Nehru | August 15, 1947 | May 27, 1964 | Congress |